© OT Chamonix - Monica DALMASSO.
Overview
One of the most beautiful located ski resorts in the world, Chamonix can be a great choice for family holidays, whether you come for the winter sports or the summer activities. In winter, the Mont Blanc area offers 500km of piste, including the world-famous 24km Vallée Blanche off-piste run – brilliant for accomplished teens. Meanwhile, the scenic pistes of Le Tour offer easy runs for family days out.
Mountain holidays in the region are a great alternative for families bored of the beach, and – with its setting below the shadow of Europe's highest mountain – Chamonix is regarded as the world's leading summer mountain resort, with a huge variety of activities for all ages, from trains up the mountains to walks or swims under the Alpine sun.
But a word of warning – this bustling, colourful, stylish town in the shadow of Mont Blanc may be one of the world's best-known resorts, but the the skiing is split into a number of sectors, most requiring a bus ride, which can be annoying even for the experts who come for the extreme descents. So it's best to steer clear of Chamonix unless you've got children willing to walk and able to carry their own skis.
Things to do with kids in Chamonix
Ski! Four of the five ski areas are suitable for intermediates (but note that the region draws criticism for not offering the kind of piste interconnectivity of many other ski areas).
Go lugeing on the year-round Alpine Coaster.
In summer, heed the call of the mountains with their huge variety of activities. Kids can try out rock-climbing or canyoning, or family courses can be arranged. There are also many walks starting from town, or for the lazy, cable-cars and mountain railways get you into the heart of the glaciers and lakes with minimal effort. Mountain-bikes can also be taken up on cable-cars for fun and effortless descents. Rafting is available for ages 10+, and there's also paragliding to those who want to take to the skies.
On hot days, head to Chamonix's very large town swimming pool, with its children's and toddlers' pools.
Explore other day-trip possibilities including trains to Switzerland, especially the city of Geneva, and to Italy via the Mont Blanc tunnel.

Eat
Most packages include a large breakfast and dinner, but if you want more flexibility in your family holiday, there is a good choice of restaurants in Chamonix, from good-value pizza parlours to Michelin-starred restaurants. French mountain food is very popular with kids - see our French Alps family destination guide for more info.
© OT Chamonix - Monica DALMASSO.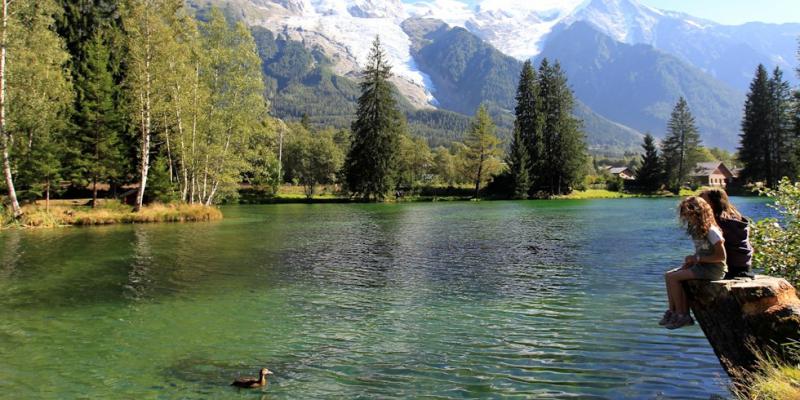 Summer on the lake at Chamonix.
When to go to Chamonix
The ski season in Chamonix is mid-Dec to mid-April. With younger kids, consider January (cheaper but very cold) or March (more expensive, less cold) – and avoid February half term.
The summer season lasts from early June to mid Sept. Late August can be a little humid and thundery, and is also when the resort is at its busiest. We recommend July for family holidays blessed by clear weather and sunny skies.
© OT Chamonix - Monica DALMASSO.

Cost
Sample prices for a week's skiing are about £600–1000 per adult, depending on the week, with generous children's discounts. Ski packs are extra. A sample price for a summer family holiday for four in Chamonix, sharing a room, is around £1,400pp half board, including a ferry crossing. Crèches cost about £180 per child for five days.
Destination stats
Capital city
Flying time1.75hrs All flight times are based on flights from UK London airports, to the capital or nearest destination airport.
Carbon footprint0.72 CO2 Estimated tonnes of CO2 produced for return flights for a family of four.
TimezoneGMT +1
CurrencyEuro
© Compagnie des Guides de Chamonix

Sign up to our newsletter
For regular family travel inspiration and ideas