© Laurent Salino, Alpe d'Huez Tourism
Overview
With its quaint old town, reasonably attractive newer area, and Les Bergers slopeside village, with skiing and/or lifts just about encircling the lot, Alpe d'Huez is an all-round brilliant choice for family ski holidays (except for the 21 hairpin bends on the road up!) – indeed, it's the winner of our Best Ever Family Ski Resort Award in the Ages 7 and Under category. A huge swathe of green runs the length of the resort, with drag-lifts, chairs and even the DMC gondola. In summer, meanwhile, there are activities ranging from gentle rambles to glacier-walking. It's also good value when compared with more famous ski resorts.
Facts at a glance
Ski area: Massif des Grandes Rousses
Altitude range of ski area: 1,250-3,330m
Km of piste: 249
Blue/green/red/black runs: 34/41/40/16
Minimum age for ski lessons: 2.5 years
Things to do with kids in Alpe d'Huez
• Ski this huge area with its massive easy-skiing area at the base. The season lasts from December to April. If you take the gondola's second stage, confident youngsters love the bumpy, sometimes narrow blue back down. Wide pistes head off in varying directions, with interesting runs down to the villages of Vaujany and Oz.
"Alpe d'Huez is widely underrated and has never been very trendy yet boasts charismatic skiing from village to village and from high above-treeline areas to sweet valleys." Nick Dalton, family ski expert
• Head up to the big glacier where you can do the Sarenne, the longest run in the Alps (16km), and a black at that. Only the top section is demanding, but many children do tackle it, enjoying the seemingly endless sweep, uninterrupted by other runs, down through a long ravine. Meanwhile, if the kids are in ski school, expert parents can try the serious off-piste and steep, bumpy blacks down from the glacier.
• Go to the other side of the resort to the Signal area, or take a lift across the ravine to Signal de l'Homme, with pleasing (if sometimes slushy) runs down to the village of Auris.
• Take advantage of the fact that a 6/15-day Alpe d'Huez lift-pass allows you two days in Les Deux Alpes and a day each in the resorts of the Grande Galaxie (Serre Chevalier, Puy Saint Vincent, Montgenèvre and the Italian Milky Way), as well as covering the indoor/outdoor pool (with sauna and Jacuzzi), outdoor skating rink (open year-round) and one activity at the sports centre.
• In summer, try everything from archery, tennis and squash to mountain-biking, canyoning, via ferrata and glacier-walking. With younger kids, there's summer luge, horse-riding and gentle rambles or hikes along 230km of lovely marked trails, some alongside lakes where you can swim. The area is pleasantly uncrowded even in high season (July and August).
• Also in summer (in June/July), you might catch part of the Tour de France – a stage finish of the classic bike race generally takes place here, with riders ascending those 21 hairpin bends!
• Sample Alpe d'Huez's great choice of restaurants, many excellent value, whether you want local fare or pizza. Most of the mountain restaurants are good, although the more accessible ones tend to get very busy.
© Laurent Salino, Alpe d'Huez Tourism.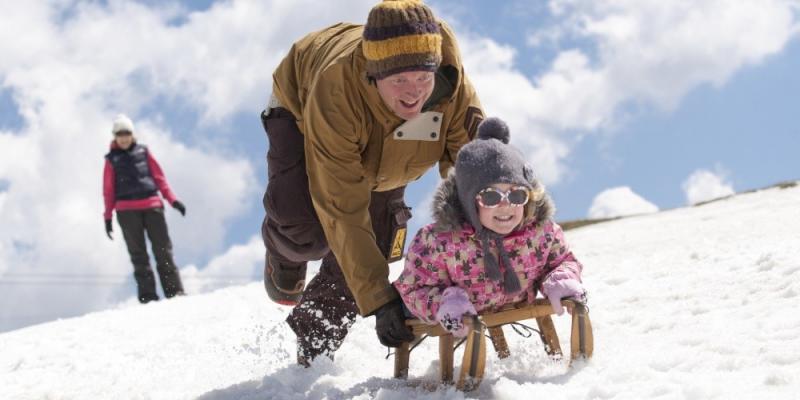 Summer luge in Alpe d'Huez
Destination stats
Capital city
Flying time3hrs All flight times are based on flights from UK London airports, to the capital or nearest destination airport.
Carbon footprint CO2 Estimated tonnes of CO2 produced for return flights for a family of four.
Our partners
Crystal Holidays are a great choice for this resort.
Offer of the week
5* Family Holiday to Costa Rica during the Easter Holidays - £9,754 for a family of 4*

Sign up to our newsletter
For regular family travel inspiration and ideas