Set in sprawling grounds that lure you out into the great outdoors, this country estate in County Cork offers woodland walks, cycle tracks and even a sandy 'beach' area on its lake, with kayaking available.
With just 25 stylish rooms and suites, Liss Ard Estate Hotel has an intimate feel that is reinforced by the friendliness of the staff. As well as luxuries such as bathrobes, rooms have child safety features and essentials (socket covers, changing mats, potties and black-out blinds). Babylistening and use of a parents' kitchen (in the Lake Lodge) are offered free of charge.
For rainy days there's a library, DVDs and a games console, although if you do venture out, raincoats and wellies are available for all the family.
Location
Liss Ard Estate Hotel is in south-west Ireland about an 80-minute drive from Cork Airport and about four hours from Rosslare ferry port.
Enquiries
Want further information, prices and availability for Liss Ard Estate Hotel?

Childcare
Babysitting (extra charge; book in advance).
Baby-listening.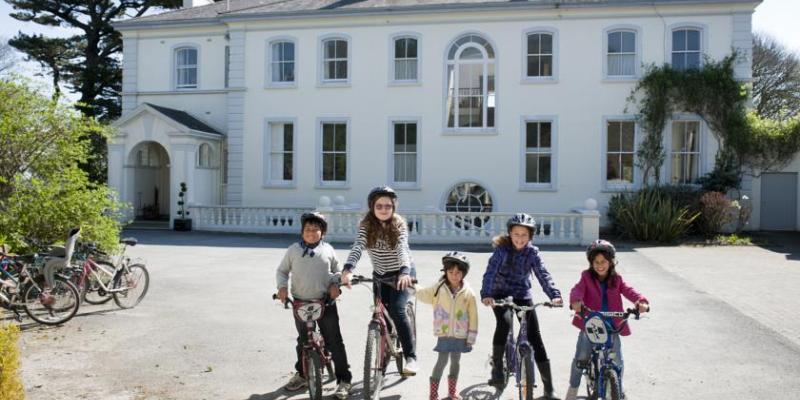 Kids on bikes at Liss Ard.
Accommodation
25 rooms and suites with space for cots/extra beds for kids.
Choose to stay in the 6-bedroom Victorian Country House, the adjacent 9-bedroom Garden Mews or The Lake Lodge which is located on a different part of the estate and can be booked as an exclusive self-catering property or individual hotel option.
Offer of the week
The Sands Resort in Cornwall can't wait to re-open their doors. In celebration, they are offering a bundle of extra treats when you book a May break.


Liss Ard Estate Hotel, County Cork
Facilities
Childcare (see above).
Restaurant (children's meals available on request; highchairs).
Library; DVDs and CDs.
Games console.
Lake with boat hire.
Table tennis.
Tennis.
Pool table.
Spa treatment rooms.
Parent's kitchen (24-hour access to microwave, blender, bottle steriliser, bottles, fridge; located in the Lake Lodge).
Honesty bar.
Raincoat and wellington boot loan.

Liss Ard Estate Hotel, County Cork

Liss Ard Estate Hotel, County Cork
Sign up to our newsletter
For regular family travel inspiration and ideas