By Rhonda Carrier
It's midnight and I'm walking home from drinks with new friends at the Sally Bowles Art Café and Bar in Schöneberg to my room in Mitte, trying to talk myself out of heading to one of Berlin's famously raucous nightclubs. It's my one night of freedom between leaving my youngest son with his German exchange family in the suburb of Falkensee and meeting my 16-year-old off the plane from Manchester tomorrow for a mum-and-son treat celebrating the end of his GCSEs.
'As we pound the streets, we realise we're also taking in the city through its food, keeping our energy levels up with everything from Currywurst to Vietnamese noodle soup and Turkish breakfasts.'
Berlin is one of those cities best discovered on foot – even and perhaps especially at night, I discover. My nocturnal hour's stroll home takes me past many of city's most historic sights, including Potsdamer Platz, the gorgeously illuminated Brandenburg Gate and the Reichstag. But I resist the temptation to pull an all-nighter, and the next morning I'm feeling fresh and smug as I head to the airport to collect Ethan.
Ethan at the East Side Gallery
Walking, I found out a long time ago, is also the best way to have a conversation with a teen. Kids who barely grunt or glance up from their screen when asked a direct question can become quite the chatterbox if you manage to persuade them to come out on a stroll with you. Shoulder-to-shoulder, things are automatically less confrontational.
And a perfect spot for walking is the Berlin Wall Memorial at Bernauer Strasse, where the effects of the concrete barrier that divided the city for nearly three decades were particularly acute for local residents. Many who lived in the border buildings slid down ropes or jumped into rescue nets from their apartments; some suffered horrific injuries or died. This was also where the most famous escape tunnels were dug.
There's a museum here, but the real force of the site comes from walking around at your own pace, looking at the street-art-like wall murals, statues, reconstructed church, open-air pavilions with photographs and videos, and devastating installation of photos and audio-recordings detailing each of the people who lost their lives here. Ethan has just studied Nazi Germany, World War II and its effects as part of his GCSE history course and finds it both fascinating and moving. We both do.
The next day we cover 18.5km without even realising it until we consult our phones. We continue the historic theme at decommissioned Tempelhof Airport, one host to rallies and to the Berlin Airlift, now a model of creative urban regeneration. Transformed into a vast park, Tempelhofer Feld, it's where Berliners flock at weekends to picnic, jog, cycle, skateboard, kite-fly, play mini-golf, practise their circus skills and even go paragliding, refuelling at street-food stands and bars. Regular festivals are held here too.
From here we head back towards Mitte through hip Kreuzberg. With its sizeable student and Turkish populations, this is a teen paradise, packed with thrift shops, vintage markets, street art and graffiti. It's also home to the Berlinische Galerie of modern art, photography and architecture, which Ethan, who also did GCSE art, proves surprisingly willing to pop into and even finds quite fun – albeit in a dark way, the colour, exaggeration and distortion of many the Expressionist works on show appealing to his teen humour.
Other places we take in over the weekend are Checkpoint Charlie, the Tiergarten park, the East Side Gallery with its Berlin Wall murals, and the Holzmarkt 'urban village', with its food stalls, art gallery, yoga studio, co-working space, theatre stages and nightclub. And as we pound the streets like this, we realise we're also taking in the city through its food, keeping our energy levels up with everything from Currywurst to Vietnamese noodle soup and Turkish breakfasts.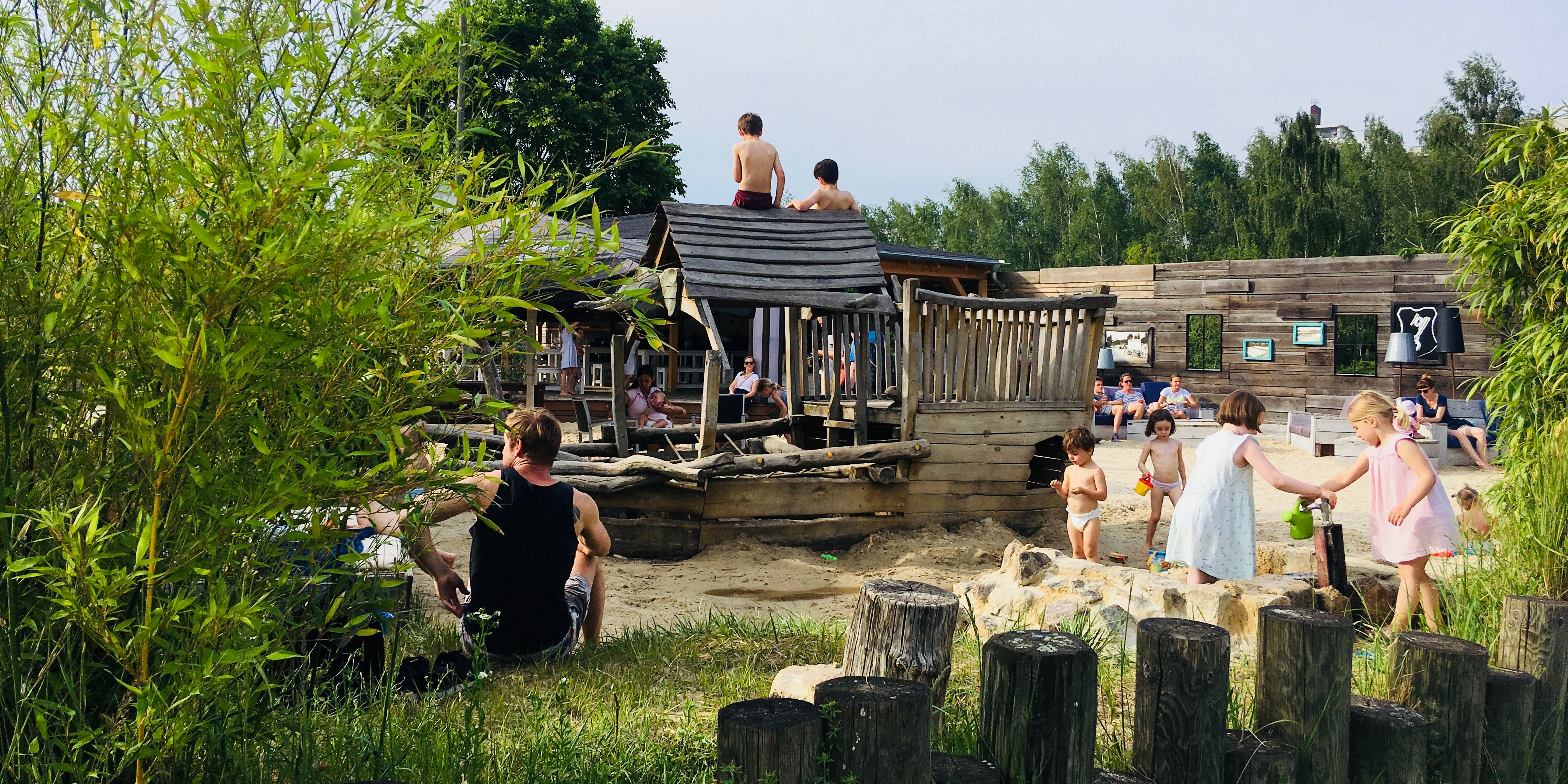 Our base for our two nights couldn't be more budget-friendly – or more blissful. Club Lodges are 30 simple square blocks sleeping 2 or 4, with shared showers and toilets, at BeachMitte, an outdoor sports venue with 50 volleyball courts and a wacky high-ropes course featuring a dangling Trabant car. Sitting in the complex's sand-floored open-air bar listening to Balearic beats on the sound system, cold beers on the upcycled tables in front of us (drinking beer and wine is legal in Germany from age 16), the mercury soaring, we could be in Ibiza or Bali. But we're not. We're in Berlin, and at this moment there's really nowhere else we'd rather be.
Read more about family breaks in Berlin and the Brandenburg region.
Offer of the week
5* Family Holiday to Costa Rica during the Easter Holidays - £9,754 for a family of 4*

Sign up to our newsletter
For regular family travel inspiration and ideas