Getting there is all part of the adventure when you spend two days, as we recently did as part of a longer Malaysia holiday, at Taman Negara – a vast national park on the Malay peninsula. Having driven about three hours from Kuala Lumpur, we hopped aboard a river cruise from Kuala Tembeling jetty just outside the national park for the scenic 2.5-hour journey to Mutiara Taman Negara Resort, spotting water buffalo on the sandy banks and in the river itself along the way, along with other wildlife.
A sprawling tropical rainforest said to be 130 million years old, Taman Negara also houses tigers (secretive ones you're unlikely to see), macaque monkeys (who you'll see in abundance), hornbills, monitor lizards and plenty of other animals. One of the most thrilling ways to see some of the park is on a jungle night-walk that is among the activities led by the nature guides at Mutiara Taman Negara Resort, which sits at Kuala Tahan, the main entry point to the park.
"The highlight of a visit to the Orang Asli aboriginal settlement is watching demonstrations
of fire-starting and of making the blowpipes with which these people hunt animals for food.
You even get to try out shooting with a blowpipe yourself…"
The jungle truly comes to life after dark – quite alarmingly so, in terms of the sheer noise of the unseen creatures chittering, snuffling, whistling and grunting all around you as you tiptoe along the wooden boardwalks of the 1km 'swamp loop' by torchlight, wondering if you're going to make it out alive. We didn't spot anything big (some people are lucky enough to get up-close and personal with tapirs and wild boar during a night-walk), but there was plenty to admire and/or potentially freak out about in terms of creepy-crawlies – massive centipedes, some sizeable spiders I didn't care to inquire too deeply about, and exquisitely camouflaged stick insects…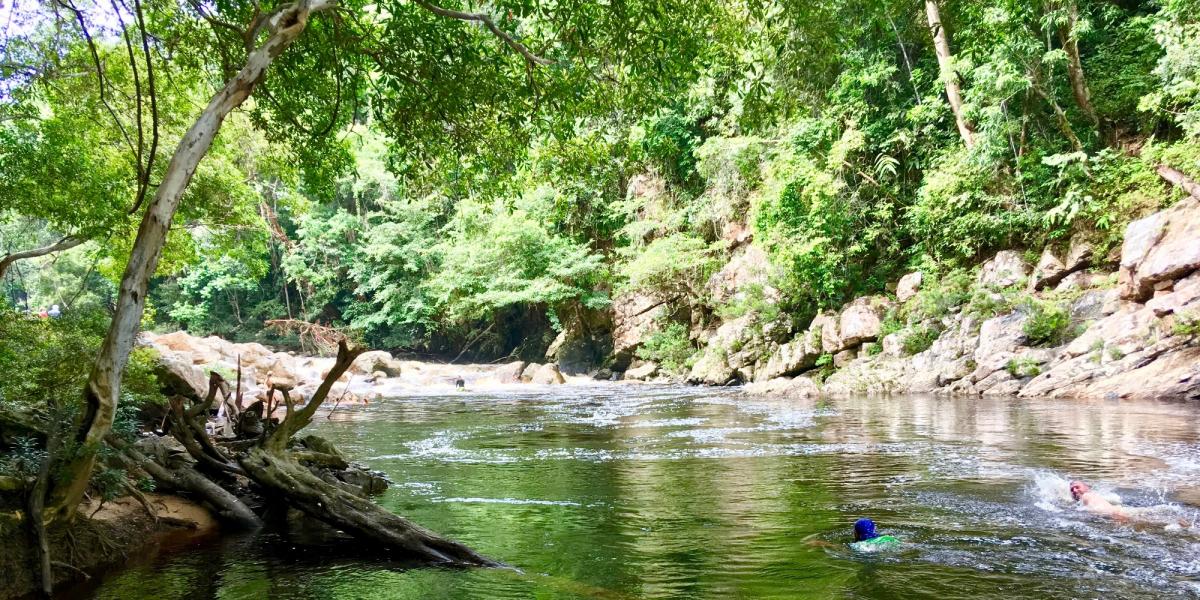 />
Swimming in the Taman during a river-boat trip
There are three other activities you can sign up for at Mutiara Taman Negara, with a combo package of all costing less than £50 each or sometimes even less if there's a discount running – a massive bargain (you can also book them as part of your room and board package). Probably our favourite outing was the Tahan river-boat trip, taking us at speed past soaring ancient trees to a spot where we could swim in the cool green river.
The third excursion is a daytime trek along jungle trails to the world's longest canopy walkway (530m in length and 40m above the ground) and to Teresek Hill for lovely views over the surroundings, and the last is a river rapids trip that stops off at the Orang Asli aboriginal settlement so you can learn about these native people who live in stilted huts without electricity – a truly eye-opening experience for adults and kids alike. The highlight for children, undoubtedly, is watching demonstrations of fire-starting and of making the blowpipes with which these people hunt animals for food. You even get to try out shooting with a blowpipe yourself, and you can buy some to take home –a fantastic souvenir for kids as well as a way of contributing to the survival of this remote community.
Rooms at the Mutiara Taman Negara Resort take the form of standalone cabins, some especially for families and some connecting. Fairly basic but comfortable, they can suffer creepy-crawly invasions – something to bear in mind when deciding if a jungle stay is right for your family. That said, this is a fun place for families, with a youthful, backpackerish feel (you can expect to pay about £165/night for two adults and two children, including breakfast and dinner).
Food on offer in the relaxed open-sided restaurant includes fish from the river – catfish (ikan patin), best sampled in pais (baked in a banana leaf with turmeric leaf, wild pepper, local herbs and spices, served with fragrant rice, pineapple pickle and fish crackers), and ikan kelan or masheer fish, believed to ward off bad luck and even evil. If that's all too exotic for you or your kids, there are also Western options and even a kids' menu featuring the likes of breaded prawns, mini-pizzas and spaghetti bolognaise. But if you like spicy food, don't miss the array of sambals, including tempoyal (another word for the legendary malodorous durian fruit so popular in Malaysia).
If you do travel up to Taman Negara from Kuala Lumpur, we recommend the services of Asian Overland Services, who can get you and your family around Malaysia at reasonable cost and will save you the hassle of hiring a car and finding your way around. Asian Overland can also take you to the fascinating Cameron Highlands, also about three hours from Kuala Lumpur, where you can tour local tea plantations and explore the Mossy Forest of Gunung Brinchang with its 2km boardwalk taking you past moss, ferns, lichen, orchids and medicinal plants. The most family-friendly place to stay in the Cameron Highlands is Strawberry Park Hotel with its array of spacious rooms for families of all sizes and its indoor pool.
Read more about family holidays in Malaysia or about travel to Malaysia in general.
/>

An Orang Asil child on the banks of the Taman River.


An Orang Asil child on the banks of the Taman River © Rhonda Carrier.
Offer of the week
Pick up a free kids' place plus save up to £200 per family and enjoy up to £150 rewards when you book with First Choice this week. BOOK NOW

Sign up to our newsletter
For regular family travel inspiration and ideas