By Rhonda Carrier
I gasp and point as I spot 15 sharks threading their way through the corals. It's amazing enough to be here at all, looking at transplanted coral fragments growing on 'trees' tethered to the floor of the Atlantic Ocean – the offshore coral nurseries run by Key Largo's Coral Restoration Foundation. The sharks are really just an added bonus.
'We sat beneath a sky full of pelicans in Whale Harbor, marveling at their death-defying dives as they spotted fish beneath them, then kayaked through the mangroves of the back-country, our guide pointing out manatees, bonnethead sharks, spider crabs and key deer to our astonished eyes.'
We raise our snorkel masks and grin at each other, our faces still pale with the zinc-heavy, reef-friendly sunscreen that is provided free on the Rainbow Reef Dive Center's boats to the coral nurseries. That said, we're in a thoughtful frame of mind. We've already listened to a chastening talk about global coral-reef destruction at the CRF's HQ with its interactive exhibits, and started to understand how important responsible tourism is to the Florida Keys. This iconic destination is threatened by the rise in sea levels brought about by climate change – to the extent that the authorities have already calculated how high its 500km of roads and bridges are going to have to be raised to stay dry.
Kayaking through the mangroves
Last night we sat beneath a sky full of pelicans in Whale Harbor off the retro-styled Postcard Inn in Islamorada, marvelling at their death-defying dives as they spied fish beneath them. Another day we took a relaxing yet at moments challenging back-country trip through the mangroves with Big Pine Kayak Adventures; at points we had to virtually limbo beneath low branches to get through the tangles of this saltwater-fed forest. Like the CRF workers, our local naturalist guide Captain Bill Keogh is a designated Steward of the Keys, using his work to try to save his region. As we row, Bill points out manatees, bonnethead sharks, spider crabs and key deer to our astonished eyes.
Other ways to minimise your environmental footprint and play a role in the Keys' survival during your stay are a Dolphin Watch tour with Honest Eco Sustainable Nature Tours aboard its new SQUID – Key West's first electric-powered charter boat – and the Mallory Glow Tour with Key West Hydrobikes. The latter – pedal-bikes mounted on buoyant pontoons – are a quirky way to take in Key West Harbor at sunset.
Key West is a fun, offbeat town worth the road trip down through the Keys in its own right, and a great place to visit with teens, with a fantastic nightlife and live-music scene. We stay at the family-friendly Parrot Key Hotel & Villas with its four swimming pools, complimentary beach shuttle and tropical vibe, learn about the town's history on a hugely entertaining Key Lime Bike Tour, tour Hemingway's old house with its famous cat population, and spot a rarely seen green ray as the sun sets over the ocean during a Rum & Reggae Combo catamaran excursion with Fury Waters Adventures.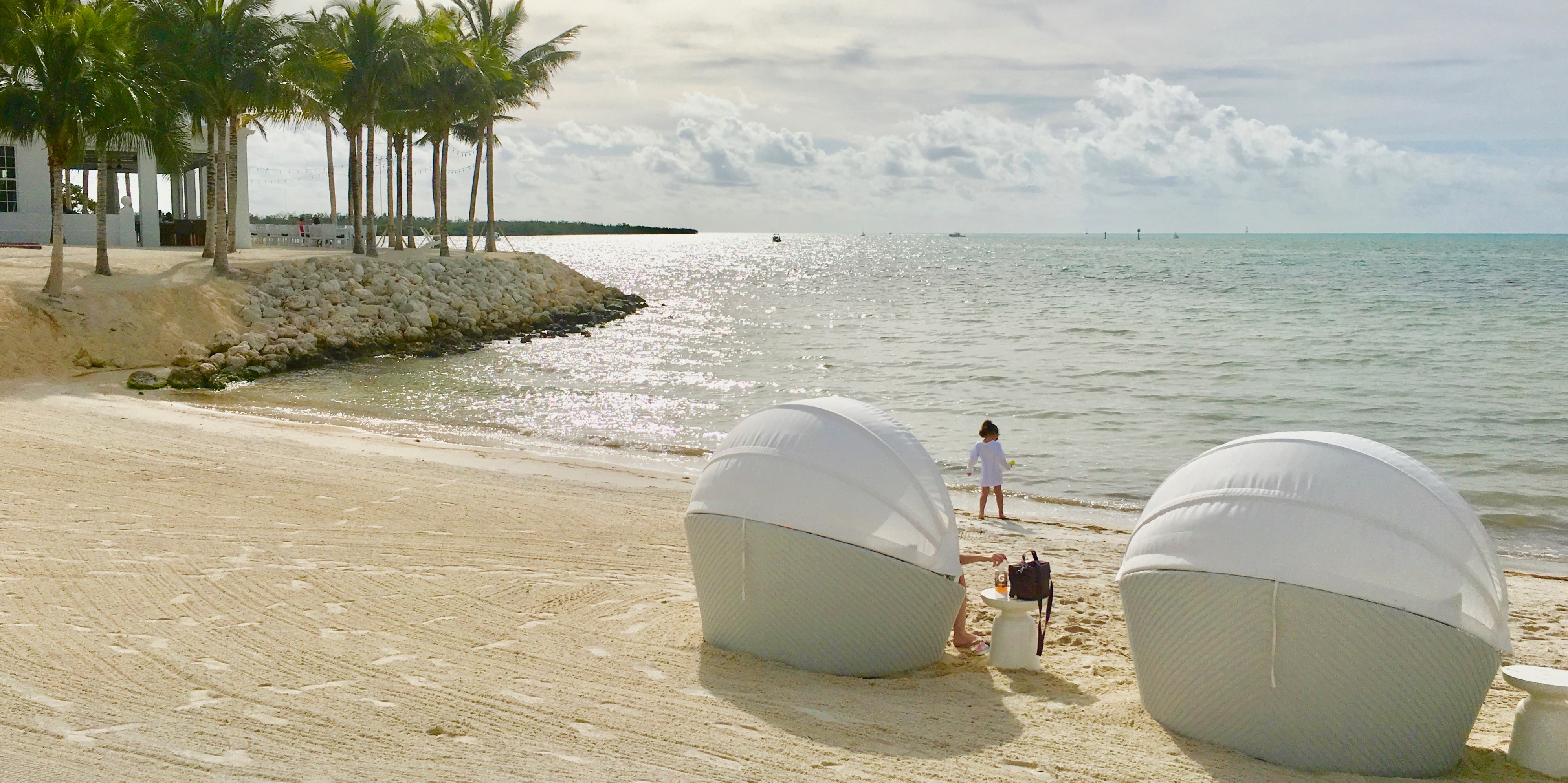 Family time at the Isla Bella Beach Resort
Key West is also memorable for its eating out, with here, again, the emphasis firmly on sustainable regional ingredients. At Firefly Key West, we feast on Modern Southern dishes such as fried green tomatoes with Scotch bonnet aioli, kohlrabi and brussels sprout slaw with hot bacon vinaigrette on the fairy-lit verandah of a typical Key West conch house – the stuff memories are made of. Down at the other edge of the budget but no less unforgettable are the takeaway lobster enchilau tacos from Fisherman's Café Key West down at the harbour.
In fact, food is a big deal throughout our Keys road trip, from the oysters and cornbread with sour cream at Matt's Stock Island Kitchen & Bar, the conch fritters, 'gator bites, lobster mac 'n' cheese and Key Lime pie at the Key Largo Conch House, the stone crab claws at Robbie's Marina (famous as the place where you can hand-feed tarpon from the jetty), and the hogfish and lionfish at Chef Michael's to the hand-made truffles at Key Largo Chocolates and Ice Cream, and the Loaded Bloody Mary at Ciao Hound, complete with a chicken wing, prosciutto-wrapped shrimp and cheese-stuffed olives.
We round off our trip with a stay at the Isla Bella Beach Resort, where fresh nautical rooms look out over a wetland and mangrove conservation area and bird rookery. Rising early for yoga on the jetty, we watch the pelicans swoop around our heads again and know that we've found a little piece of heaven – and one that we should do everything in our power to save.
Find out more about the Florida Keys and read more about its sustainable tourism efforts. Virgin Atlantic serves Miami from the UK.
Offer of the week
5* Family Holiday to Costa Rica during the Easter Holidays - £9,754 for a family of 4*

Sign up to our newsletter
For regular family travel inspiration and ideas